"À FEU ET À SANG"
16 OCTOBER 2021 – 13 FEBRUARY 2022
THE NEW EXHIBITION AT THE BONISSON ART CENTER, DEVOTED TO BERNARD AUBERTIN
After the success of the exhibitions by Georges Rousse, then Nicolas Chardon and Michel Verjux, the Bonisson Art Center will pay tribute to another master of contemporary art, Bernard Aubertin (1934-2015).
From 16 October 2021 to 13 February 2022, visitors to the Bonisson Art Center can see "À feu et à sang" (Of blood and fire), a retrospective of works by Aubertin between 1958 and 2015, on his favourite themes: the colour red and fire. This exhibition was designed with kind and expert help from Jean Brolly, who showed Bernard Aubertin's work in his gallery for 12 years.
Admission to the Bonisson Art Center is free and open to all, thanks to the commitment of its founder, Christian Le Dorze, to give everyone free access to contemporary art. His passion for art stretches back many years and spurred him to open the Bonisson Art Center to share and promote the work of artists he particularly appreciates (mediation courses for school groups and adults).
A RETROSPECTIVE OF BERNARD AUBERTIN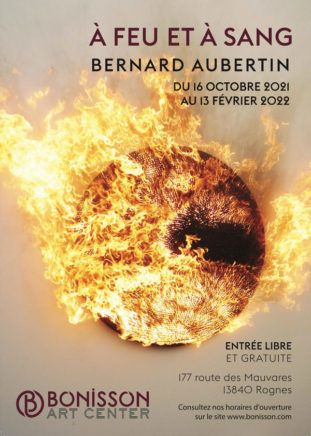 Born in 1934 at Fontenay-aux-Roses, Bernard Aubertin studied Decorative Arts. A figurative painter in the 1950s, he felt he was at an artistic dead-end. On meeting Yves Klein in 1957, he experienced a real emotional shock that marked a turning point in his artistic career. He decided that he too would keep to one single, pure colour, the best way of ridding himself of the painter's necessarily subjective stance. He chose red, the symbol of blood, the heart and of the element Fire, red rooted in molten earth, in the concrete and real world.
In 1958 he created his first series of red monochromes. This colour can be felt physically in his works, a sensation he adds to by working with different textures (nails, bolts, screws, bits of wire, wood shavings, sponges, etc.) where light vibrates with matter. He meticulously structures and organises the space of the painting to create, with each one, a "moment of pictorial reality".
« A monochromist approaches the action of creativity deprived of his Ego. He seeks absolute clarity by erasing his personality. The monochrome expresses the art of sublime abstraction. ». Bernard Aubertin
THE EXHIBITION "À FEU ET À SANG" IS DIVIDED INTO FOUR MAIN THEMES:
RED, FIRE, GOLD, AND BLACK AND WHITE.
THE ARRANGEMENT BY CURATOR JEAN BROLLY OFFERS AN OVERVIEW OF THE WORK OF BERNARD AUBERTIN, AND INCLUDES DOCUMENTATION ABOUT THE ARTIST'S LIFE.