"ECLECTIQUE"
26 February – 12 June 2022
The year 2022 looks to be just as buzzing with creativity as last year at the Bonisson Art Center, with a calendar full of fascinating exhibitions. And we get off to a great start with Eclectique, an exhibition showcasing the works of Claude Viallat from 26 February to 12 June.
Admission to the Bonisson Art Center is free and open to all, thanks to the commitment of its founder, Christian Le Dorze, to give everyone free access to contemporary art. His passion for art stretches back many years and spurred him to open the Bonisson Art Center to share and promote the work of artists he particularly appreciates (mediation courses for school groups and adults).
AN EXHIBITION OF CLAUDE VIALLAT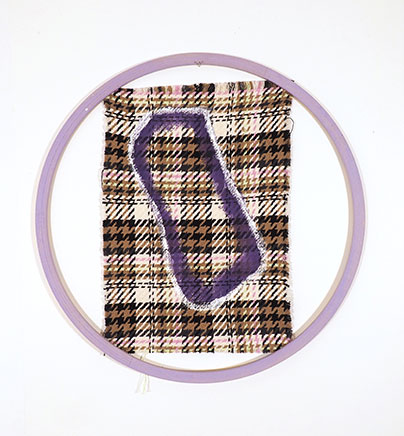 A French painter, born in Nîmes in 1936, Claude Viallat is one of the founding members of the Supports/Surfaces group. This movement, born towards the end of the 1960s, can be considered the last French avant-garde movement in the history of modernity and brought this cycle to a definitive close. Supports/Surfaces is characterised by an approach that gives equal importance to the materials used, the creative gesture and the final work, displaying a desire to get back to the original gesture. The subject takes second place. The artists in the group redefined the practice of painting, starting with their material elements through the deconstruction of the painting which no longer had to convey any message and need represent nothing more than its own, material reality.
Viallat bases his work on the use of a "neutral form, neither figurative, nor organic, or geometric, or symbolic; a form for all the others" which is part of a radical critique of lyrical and geometric abstraction. He adopts a painting process based on prints placed in a repeated pattern on a free canvas – unstretched and unframed – and paints on the ground which determines the work's composition. Viallat's work is based on the conviction that "the subject of the painting is the painting itself" through a movement of repetition and excess: "The idea of re-runs, or series or repetitions thus becomes a necessity." The absence of a subject enables him to concentrate on shapes and structures, on the interaction between the colours, on the pictorial matter, producing a work on colour that is quite unique.
THE ECLECTIQUE EXHIBITION INVITES US ON AN ARTISTIC JOURNEY THROUGH 49 RECENT WORKS BY VIALLAT TO BETTER UNDERSTAND THE SUPPORTS/SURFACES MOVEMENT AND THE WORK ON COLOUR WHICH BECOMES BOTH THE CENTRAL OBJECT AND SUBJECT OF THE PAINTING.